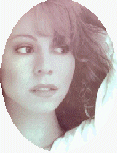 She voiced and thrilled through...
If you think of Mariah you might be inclined to raise her up in your words as an unchanged person... she's still that same girl of 6 years away ... and counting...
When you think of Mariah you might assure yourself that she's your friend and she'll pick you up if you're down and done... she'll 'Be There'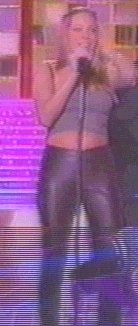 If you chance to think of Mariah you can only find yourself surrounded by guarding angels and resounding walls that grab your heart and wonder away into some thrilling fathom-painted halls... there will be visibility there... there will be everything to Make you 'Make It Happen'
---
please see... Her current record-breaking chart success

---
The music of Mariah's is trenched out of a special silvery mood, low, but always high, it is simple, almost breaking in many parts to tell a story, her songs are like made inside a story line, she never fails to put her heart into the lines to match her feelings at the moment, and the melody is decked out of the highest, richest notes of octave bounds... she's always managing to smile, smile inside an expression-note even when the feelings might go thorough deep and intertwine with saddened lines or plain strong features.
Mariah is a number one on many accounts...
one of them is the chart... then there are the hearts of the children who open themselves so much when around her... to see her, to be with her, to talk to her, often, to play with her... and that is not just
Trips

Henry's Site... Mariah, on the Net... thanks for the picture... That was Neat:)

Trips


Honey B Fly...:o)... for Trey Lorenz(please forward to mccollaborations from the bottom image) she sang background voice on his latest song taken from the Soundtrack of the movie "Men in Black", starring Will Smith and Tommy Lee Jones...
... thing was she didn't want to be credited or high profiled on his song...
Do you remember the MTV Unplugged session when Trey sang so high so full of wonder with Mariah?
Take a Trip

On "the Planet" you can scroll through the discography

Take a Trip
"> > With "Honey" debuting at No.1 that puts Mariah in a tie for 3rd place > > all-time, pulling her ahead of both Whitney Houston and Madonna. Mariah is > > now tied for 4th with the Supremes with 12 No.1 singles, Michael Jackson > with > > 13, Elvis with 18 and the Beatles with 20 are ahead. Mariah also creeps up > > on the Beatles as Mariah has spent 55 weeks at the No. 1 position, the > > Beatles have 59 and Elvis leads the way with 80. Who would've thought a > girl > > living on Macaroni and Cheese and walking to work with holes in her shoes a > > decade later would be one of the all-time best musicians and being in with > > the likes of the Beatles and Elvis...those people owned rock and roll and > now > > Mariah seeks to get that same recognition...Elvis is known as the King of > > Rock and Roll, The Beatles some say are the best rock band ever, Michael > > Jackson has been known to some as the King of Pop...what does that make > > Mariah...the Queen of Pop? The Queen of Rock N Roll? The Queen of R & B? > > The Queen of Music? However you list her she will be remember as one who > > once again has changed the course of music and affected the lives of many > > who've listened to her. It's amazing what you can accomplish if you put > your > > mind to it...as Mariah once said...you can "Make It Happen"... > > > > Shyblader:-)"
The above information was available thanks to Shyblader ®, another grand Mariah Fan
Trips

YM(Young and Modern), the magazine, had an article about Mariah
check the retrospective on it
Eve - she's given some special insights into her all time dedication -

Take a Trip