New French Album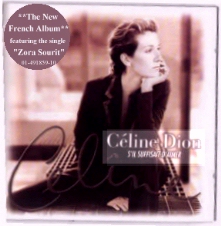 as of September, 1998
"S'il suffisait d'aimer"
Tracks listing:

1. Je crois toi
2. Zora Sourit
3. On ne change pas
4. Je chanterai
5. Terre
6. En attendant ses pas
7. Papillon
8. L'abandon (real audio)
9. Dans un autre monde
10. Sur le meme bateau
11. Tous les blues sont écrits pour toi
12. S'ill suffisait d'aimer

The album is a characteristic of Jean-Jacques Goldman's (producer)
expertise. It's got good rocking rhythm as well as danceable traces,
and it's also got features of a dreaming kind which sometimes may
send the listener into operetta style yet restored on a palette of
an easy pop music essence, thanks to the lovely leading voice
of Celine's.

Awesome tracks:

Zora Sourit
Terre
L'abandon
Dans un autre monde
Sur le meme bateau
Tous les blues sont écrits pour toi
Out in Québec a couple of songs have been released, more in the case of "Zora Sourit". It soon follows in France and throughout some European countries.
Another song is "Terre".
In early November a Christmas album is projected! That will be a first from Celine!
It is called "These are special times"
>>The song "I'm Your Angel", a duet with R. Kelly, is out now in the charts!<<
---
"These Are Special Times"
New Album
November, 1998
Tracks listings:

1. Don't Save It All For Christmas Day
2. Blue Christmas
3. Another Year Has Gone By
4. God Bless Us Everyone
5. Ave Maria
6. O Holy Night
7. Adeste Fidelis
8. Christmas Song, The
9. The Prayer- (with Andrea Bocelli)
10. Brahms' Lullaby
11. Christmas Eve
12. These Are The Special Times
13. Happy Christmas
14. I'm Your Angel - (with R. Kelly)
15. Feliz Navidad
16. Les Cloches Du Hameau

The album is available these days around the world
It's another impresive line of songs, classic ones
as well as characteristics ones.
check this url at ShowbizzNet to hear album's songs

Awesome tracks:

The Prayer,
originally featured on the soundtrack of
the animated motion picture
The Magic Sword, Quest for Camelot
this is one everlasting beautiful melody.
this song was sung on that soundtrack
separately by Celine and by Andrea,
on the album is expected a duet.
Ave Maria,
an outstanding interpretation of an all
times song is expected
more to come!
---
Because Celine has come out with new albums, as well as some songs from "Let's Talk About Love" won't go away...
... there is a Forum, a message board where you can find out about the new hits, also unreleased material in another country and not available in yours.
to reach the forum, and to suggest new songs or interract with others or ask questions about new album or songs

On the evidence of the song "Let's Talk About Love", featured on her 1997 album of the same name, expect not only this song in the chart but a very melodic and wonderful seasonal coming soon!
return to Valnnad dedication to Céline Dion site