A web site initially brought to you by singer-songwriter, novelist Damsi

Celine
... one phenomenon that has
started in the mid 80s...
... one timeless voice that strings
together notes and chords...
... one special heart offered by
a special ray from the sun...
This is Celine Dion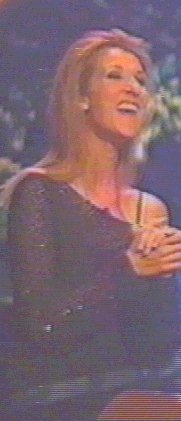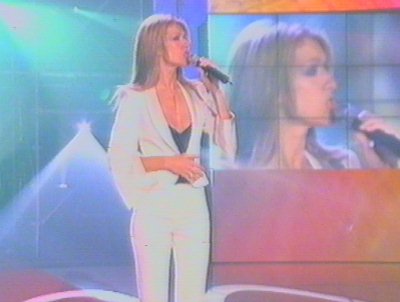 Her music is so covetous of wonderful writings on a special sheet
tucked inside her musical soul that she offers emotion by emotion with every note.
Nothing is still, yet seems so very much to be, and, then, a sweet surrendering denotes ,
any further loosening with every motion, every mood.


"Des mots qui sonnet"... "Ne partais pas sans moi"...
"Where does my heart beat now"... Starmania... "Ziggy(Un garcon pas comme les autres"

"I do it for you" (exclusively for French TV's Taratata with Bryan Adams)... "All by myself"... "To love you more"... and many more
From the new album:
Until the new album has been released, November 18, 1997, the previous songs encaptioned in the white color have all entered the personal chart (Valnnad)
"Tell Him" was Nr.1... "My Hart Will Go On" was Nr.3 and the whole single was Nr.1... "The Reason" was Nr.1 , "Immortality" was Nr.2 .
This featured as background vocals the BeeGees who wrote the lyrics...
This album is one of the greatest in history
It is also a great producer-writer-singer cooperation...

DavidFoster, BeeGees, WalterAfanasieff, GeorgeMartin, BryanAdams


CaroleKing, LindaThompson, DavidFoster, DianaKing
Corey Hart

Barbara Streissand, Diana King
---

>>>Curently Celine is wrapping up her Las Vegas shows-concerts and is to return to a full recording time in the upcoming year
From a decade of hits entitled "All The Way" Céline is back, but she also announced a 2 year break or more from
the public scene to concentrate more on her private life and feel more the wonder of being a wonderful wife and mother:-)
New song in the charts is the breathtaking, melodic and leading "Then you look at me", featured on the soundtrack of "Bicentennial Man" movie!
>>>> here you can check out all Celine's Nr.1 hits in Valnnad Chart.
Currently her new song from this new album is called "That's the way it is"! The album itself includes seven new songs, while the rest are nr1s or top 3s!


click here to check out Roch Voisine and Celine in this show .
>>>click for Metaphorized Intention featuring L'Abandon c/o The E-klet online magazine!®
click for details for her previews 2 albums info!
Uniquement et inédit sur France 2(c): May 8 1999...
Appearing on a Special Notre Dame de Paris program, a young Celine Dion singing "Ziggy" and Helene Segara and the public joining in.
>>>Pictures and sounds from "Tapis Rouge" - a special program featuring Celine and Jean Jacques Goldman among many others.
>>>>>>>former Nr.1... featured on the soundtrack of The Magic Sword, "The Prayer" is one of the most wonderful ballads with a great leading sense
of musical notes, especially adapted by Celine, c/o composer David Foster.
>>>>>>>

---

If you want more items that I would buy or just some that I like,
please visit My Amazon store! You can also come back on this page and check out if they are touring,
by getting their tickets online for a specific concert on a location near you!

---

---
Throughout her career she enjoyed singing in motion picture soundtracks... the song "Because you loved me" from "Up close and personal" is most recently recognizable.
She also dueted with Peabo Bryson on a special Disney motion picture... it is from "Beauty and the Beast" - the title track>>>
>>>this is a special link to
Disney Fun<<<
Please sign the guestbook if you've dropped by or e-mail me...Thanks!
This is a literary look at Céline Dion's music and passion and her worldwide affection... Thanks for the music!... Merci Céline pour la vérite :)

Amongst the numerous collaborations throughout an illustrious career:
Max Martin who also produced the Backstreet Boys and Britney Spears, as well as Ace of Base, Jessica and many more!
David Foster and Humberto Gatica also produced,
engineered and mixed the soundtrack for the movie Two Of A Kind starring Olivia Newton John and John Travolta
... To find out about Olivia go to the artists' dedicated web site c/o Damson Principalities
Producer Humberto Gatica has also produced some songs and written the music on various hits in Julio Iglesias' new album
My Life... or Mi Vida... or La Mia Vita... Ma vie...
that's right: four different versions of this album is available
plus another one in East Asia where the duet on "When you tell me that you love me"is with Coco Lee
the first 4 albums are all recorded by Julio recently despite its Greatest Hits theme, and it's an awesome collection, ,
maybe one day Celine will record a duet with him.
To top it all off here is the icing on the cake: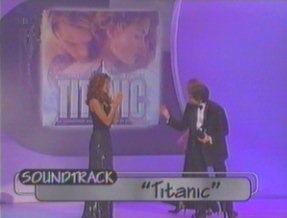 when producer/composer James Horner calls up for Céline to approach
the microphone while it's his time for receiving the American Music Award
---
Composer and producer Andy Goldmark has written and produced the latest star on the horizon: Jennifer Paige.
Of course, Andy Goldmark is the man behind "Unison", Celine's first English album back in 1989-1990.
Travel here

to see Jennifer's exclusive fan site, which is also a part of Valnnad Music Esplanade.
: For a special website dedicated to saying Goodbye to Celine
for she will retire for a few years
You, as fan can send her a special letter or poem or song of yours
just visit here!
!!also here are the location of four exclusively scanned photo by webmaster taken from VH-1 Europe:
pic 1... pic2... pic3... pic4... and this with BeeGees on Germany's TOTP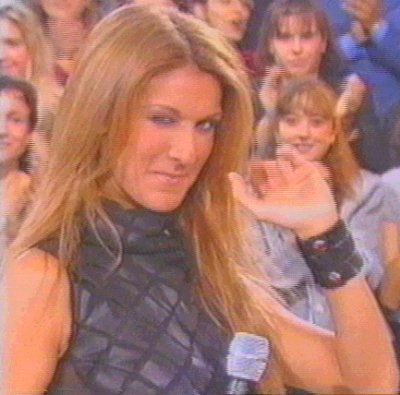 ---
A decade of Celine Dion - A Fan's special page dedication...
---
Visit
Great Canadians - Great Music
web links
For Celine from us the fans! You could participate:...
where not mentioned, the photos c/o of Passion web site©
Icing on the cake here is Céline with her husband René Angelil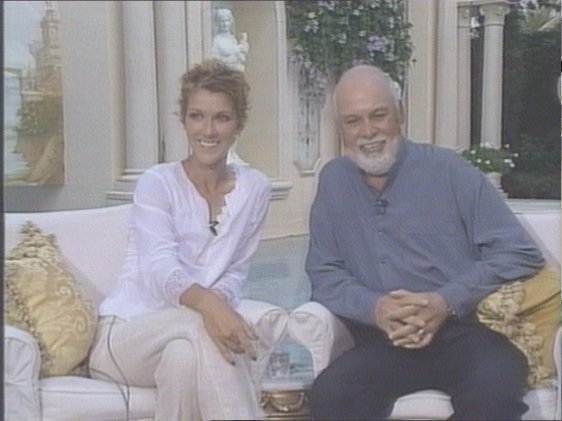 true decades of passion, music and gift for the world:-)

---

If you want more items that I would buy or just some that I like,
please visit My Amazon store! You can also come back on this page and check out if they are touring,
by getting their tickets online for a specific concert on a location near you!

---