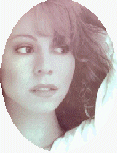 She had a look in...
Mariah is a number one on many accounts...
one of them is the chart... then there are the hearts of the children who open themselves so much when around her... to see her, to be with her, to talk to her, often, to play with her... and that is not just
Trips

You'll see later... Mariah... She Writes...She's the melody
You'll see later... Damson... HeWrites...He's the poet

Trips
Mariah is many times a producer; many times she's an inspiration as well, and as someone who likes music and the passion that a human-being can feel through this emotion she is one of the greatest entertainers and a possessor of a most uplifting voice. Just try to be in the company of a song and a voice and let yourself free and unwound, then you will see the freedom and the healing that a sound can produce... that a human soul can have the motivation to conduce.
Trips

If your desire is to view the Nr1s of Mariah from Valnnad esplanade of charts, then please travel along and then come back here.
In the Charts... Mariah is a "Meltaway"... As well - In the Valnnad Esplanade of Charts

Trips